Peter Zackariasson &Timothy L. Wilson, eds.
|
Routledge
|
2012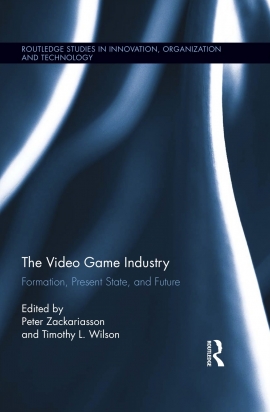 Essays in The Video Game Industry offer a critical overview of the digital games industry, paying special attention to the specific properties of video games and the often-overlooked complexities of their production process. In one of the first collections dedicated to the video game industry, the anthology carves out the sector's relationship to global economy, technology, and culture. To do this, Peter Zackariasson and Timothy L. Wilson organize their volume into four parts: the nature of the industry, geographical comparisons, effects of the industry, and finally its future.
Contributing authors approach the business from the ground up, examining issues such as the development, marketing, (sub)culture, and ecological impact of digital games. They do so with nuance and respect for specificity. Most importantly, the collection offers a global perspective and examines less explored development communities around the world. Ulf Sandqvist's chapter, "The Development of the Swedish Game Industry," offers an example of the volume's focus on previously underexplored markets and the varied cultural, economic, historical, and technological forces at work in different geographic and national contexts.
In this excerpt, Sandqvist examines the decline and resurgence of the under-researched Swedish game industry from 2000 to 2010. The bursting of the dot com bubble at the turn of the century led to a wave of bankruptcies and acquisitions that rocked the games sector. Foreign publishers swept in during this period to purchase a number of studios, including EA's hostile takeover of Battlefield developer DICE. Tracking the industry's slow recovery, Sandqvist shows how in the latter half of the decade smaller studios emerged out of the wreckage of the old giants and development shifted to mobile and downloadable games, most recently with Mojang's Minecraft. However, Sandqvist suggests the industry is still susceptible to turbulence, as the 2008 financial crisis led to more high-profile bankruptcies, including Grin in 2009, a company that consisted of 10 percent of the entire industry's workforce at the time.
Since game industry studies have so far rarely appeared in collected form, Zackariasson and Wilson's volume is a welcomed and valuable resource for readers interested in the political economy, labor, and culture of the global games industry.
Zackariasson, Peter, and Wilson, Timothy L., eds. The Video Game Industry: Formation, Present State, and Future. New York: Routledge, 2012.