Adrian Athique
|
Polity Press
|
2016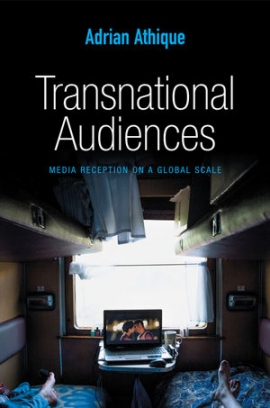 The expansion and cultural impact of electronic media networks has been a defining feature of globalization theory since the 1990s and early 2000s, receiving extensive treatment in influential works of Anthony Giddens, Arjun Appadurai, Manuel Castells, and others. But critically conceptualizing audience reception, locations, affinities, and modes of consumption has not always kept pace with complex trans-nationalizing trends in audience formation. Noting that research on media audiences in the global setting still sometimes presupposes national, supply side, and US-centric models of social communication as the analytical horizon, Adrian Athique's book Transnational Audiences considerably broadens and complicates that picture.
 
The book is divided into three parts. The first set of chapters reviews how media reception has been differently theorized at the scales of national, international, and transnational culture, and underscore through this juxtaposition the importance of the transnational turn from the nation-state centric model of senders and audiences. The second part focuses on the research practice of identifying transnational audiences, examining some of the major themes and types of media phenomena, critical concerns, and important works in this area of research. Athique critically engages the presuppositions and limitations of theories of global media audiences, paticularly as they relate to assessing issues that arise with the conjectures of identity, imagination, and media consumption at the transnational scale. In this excerpt, he reviews "high globalization era" studies of Castells on the penetration of global media networks and Appadurai on the relation between media and the cultural experience of diaspora, underscoring each author's contribution thinking about transnational media reception. Athique points out how the tendency toward varieties of technological determinism in both authors is complicated by the increasing interactivity of more dispersed audiences, media, technologies, and markets.
 
The last part of the book turns to methodological and epistemological concerns, focusing on contemporary media phenomena, audiences, and applications. New formations of fan cultures, popular culture audience convergence around social media platforms, and issues related to end user transactions and data gathering for audience research are among the topics considered. In a concluding chapter, Athique summarizes some of the book's findings by making the case for a more nuanced appreciation of the role of social imagination as a fulcrum of audience studies and media consumption at the different scales and registers that together constitute the contemporary global media landscape.